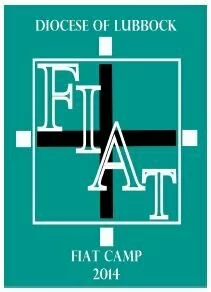 Monday
,
August
10, 2015, 8:00 AM
It is a Latin word for 
"Let it be done."
 It was Mary's re-sponse to the angel Gabriel when she was asked to be-come the mother of Jesus. 
"Let it be done unto me ac-cording to Your Will"
 refers to Mary's "Yes" to God.
Who can attend?
Young women ages 13 to 25 who desire to grow in faith-ful discipleship by modeling their personal holiness on that of our Lady. By doing so, the young women hope to be better able to discover their own vocational invi-tation from our Lord, whatever that might be and make their own "fiat" or "yes" to Him.
Deepen your faith; Explore God's call
You will have the opportunity to share faith with other young women seeking God's will for their holy life. You will listen to the sisters and single and married women share their vocation stories and life experiences in ministry. Most of all, you will have the opportunity to deepen your faith and explore God's call in your life!

Click for Brochure
Click for Registration Form
 
" Religious are called to be prophets…. by demon-strating how Jesus lived on this earth, and to pro-claim how the kingdom of God will be in it's per-fection!" ~ Pope Francis
An inherent part of life is the responsibility to make difficult, challenging, and sometimes even painful decisions. To make important decisions often requires time, prayer, and discernment. Perhaps today more than ever, we face a greater multiplicity and complexity of decisions in ordinary day-to-day living. In the discernment process, we consider the options, balance the advantages with disadvantages, and carefully examine the consequences. "How will I know . . . what is good, right, or best? How will I know what God is calling me to?" Here are some resources you may find helpful to make these decisions:
www.religiouslife.com
www.vocationnetwork.org
www.catholicsoncall.org
www.usccb.org
www.lighthousecatholic.media
www.oyemagazine.org
www.religiousministries.com