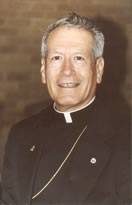 A Biography of the Most Reverend Plácido Rodríguez, CMF, Bishop of Lubbock

By Deacon Leroy Behnke, Retired Director of Communications, Diocese of Lubbock

The boy who would become the second Bishop of Lubbock spent his earliest years in Celaya, a city of some 130,000 (40,000 at that time) inhabitants located 125 miles northwest of Mexico City and surrounded by croplands on the high plains of Guanajuato.

A Faith-Filled Family

"My father was a cabinet-maker, a master craftsman" with his shop and showroom next to the family home in Celaya, said Bishop Plácido Rodríguez, CMF ."I learned a lot from (him). (He was) a quietly courageous man who was a brilliant strategist -- not only in business, but in ways he helped the church during the religious persecution in Mexico (1921-1940)."
           
Eutemio Rodriguez Cárdenas – who was acquainted with Blessed Miguel Pro, a priest martyred during the persecution and beatified by Pope John Paul II – was a leader in the Guanajuato underground rescue movement formed to same the lives of priests during the murderous anti-Catholic rampage.

"He used to hide the priests (and) he openly defended the church's rights at a time when it was dangerous to be involved," said Bishop Rodríguez.  "There was even an order, allegedly issued by the President, to have my father assassinated."
           
While the bishop's father was highly political, an architect of movements that supported laborers' rights as well as those advocating religious freedom, Maria Concepción Rosiles de Rodriguez lived out her vocation at home, as a homemaker, nurturing her family and serving as the unifying force for her household.
            
"My mother was deeply religious, a holy woman," said Bishop Rodríguez. "I don't know how she put up with all the kids. She was patient, charitable, loving, and hardworking, She always stayed up at night until all of us were home.  My father was the leader, but (my mother taught us) that a loving presence and prayerfulness are the real bonds of a family."         
           
The persecution had ended by the time Plácido was born on October 11, 1940, the 11th of 14 children born to Eutemio and Maria Concepción Rodriguez.  But the effects of its trauma lingered.  Young Plácido attended Celaya's Colegio Vasco de Quiroga, a Catholic elementary school, until January 13, 1953 when – in hopes of leaving the legacy of violent persecution behind them – his father and mother emigrated to Chicago with their six youngest children.   

A Whole New World

"At age 12 my new environment was quite different and difficult," said Bishop Rodríguez.  had already graduated from grammar school in Mexico, but I continued my elementary education at Saint Francis Assisi Parish School on Chicago's south side, graduating in 1955."

It was at Saint Francis that young Plácido became familiar with the Claretians, a Roman Catholic community of priests and brothers who staffed his parish in the predominately Mexican-American neighborhood.
            
"By the time I arrived in Chicago one of my brothers was already studying theology...I knew I wanted to be a professional of some sort – whether a lawyer, an engineer, or a doctor – so I started to consider (them and) eliminate them...one by one.
            
"I wanted to do something that would be a challenge, something I felt I was called to do. So I thought "I can be a priest; not everybody can be a priest.' I really wanted to be able to make a difference with people. A doctor, he can heal the body, but the priest heals the soul for all eternity.
            
"That pretty much settled it in my mind. I thought the most effective career for me was the priesthood. I came to that conclusion at the end of seventh grade.
            
"I told my mother (about the decision to join the Claretians) first and she was pleased. Then, I told my father. He said, 'Well, son, if you go to the seminary...I want you to go for the right reasons, not because your friends are there or because the seminary has a swimming pool.  A priest is a servant of God and of the people. His life at times can be hard because of the sacrifices he must make. If you really don't want to be a priest, don't go to the seminary. If you do, then go with my blessings.'" 

To Be a Priest

From 1955 to 1959, Plácido attended Saint Jude's, a high school seminary in Momence, Illinois, staffed by Claretians. He then entered the Claretian Novitiate at Los Angeles and made his first profession of vows in 1960.
            
Plácido continued his education at the Claretian College Seminary in Calabasas until 1964, the same year during which he became a U.S. citizen. From California he proceeded on to Washington, DC for theological studies at the Catholic University of America (CUA).
            
After finishing his third year of theology at CUA, Plácido Rodríguez made his perpetual profession as a Claretian Missionary and was ordained to the diaconate. In 1968, he completed his fourth year of studies and received his STB and STL degrees from CUA.
            
Then, on Ascension Thursday, May 23, 1968, Plácido Rodríguez was ordained to the Roman Catholic priesthood. "The lesson my father (had given) to me many years before was an extremely valuable one," said Bishop Rodríguez. "If a young man wants to become a priest, he should go in that direction because of his own sincere, reasoned-out conviction, not for any other reason."
           
After ordination, Father Rodríguez was assigned as an associate pastor at Our Lady of Guadalupe Church in South Chicago, the oldest Hispanic community in the Midwestern United States and home for the National Shrine of Saint Jude, founded by Claretian Father James Tort, CMF, in 1929.
            
While at Our Lady of Guadalupe, he undertook post-graduate work at Loyola University and earned a master's degree in urban studies in 1971. 

A Pastor and Mentor

From 1972 until 1975, Father Rodríguez served as pastor for Our Lady of Guadalupe Parish.  He then began a six-year term as vocation director for the Claretian's eastern province.
            
"When vocation work – which can be quite demanding in a personal way – is looked upon as a ministry, the opportunities to do good are tremendous," said Bishop Rodríguez. "Whatever course was taken, I always tried to follow one cardinal rule: Be as helpful as you can to

In 1981, Father Rodríguez was appointed pastor of Our Lady of Fatima Church, an Hispanic parish in Perth Amboy, NJ. His endeavors there – encouraging and guiding 18 different parish organizations and activities, providing counsel and assistance to newly-arrived immigrants seeking jobs or homes–made such an impact that he was quickly named director of Hispanic ministry for the newly-formed Diocese of Metuchen NJ.

"This last assignment to Our Lady of Fatima has given me a new experience; not only with the East Coast (of the U.S.), but also with the Puerto Rican community, the Hispanics from the Dominican Republic, and many other groups of the Antilles, Central and South America," said the bishop. 

A Higher Calling

Then, on October 13, 1983, Father Rodríguez was summoned to the diocesan office. "I thought, 'maybe I'm in hot water.  Maybe I'm being called in for something I did,'" said Bishop Rodríguez. "When I received the telephone call from the apostolic delegate informing me I had been named an auxiliary bishop of Chicago, I was, to put it mildly, taken by complete surprise."
           
Ordained to the episcopacy on December 13, 1983, Bishop Rodríguez – the first North American Claretian bishop and the first Hispanic bishop for the Archdiocese of Chicago – spent more than ten years in Chicago working to measure up to the words of Pope John XXIII that kept coming back to him after learning he had been named bishop. "Pope John appealed to his brother bishops by saying, 'A bishop who is himself holy will most certainly have a following of holy priests whose holiness will, in turn, redound to the religious perfection of the whole diocese.'"

The Bishop of Lubbock  

On April 5, 1994, Pope John Paul II chose Most Rev. Plácido Rodríguez, CMF, to succeed founding Bishop Michael J. Sheehan as the Bishop of Lubbock. Through his family background, religious training, and pastoral experience, Bishop Rodríguez brought a special blend of devotion, dedication, and practicality to his new assignment.

He had worked in parishes where the unemployed and needy knock on rectory doors looking for help. He has continually served as a champion of human rights for all, regardless of race or creed. He has helped men discern whether or not they have a call to Holy Orders.  He heard first-hand from his father of the cruelties imposed upon the clergy during a time of persecution; and of the need to courageously oppose and outwit those who destroy the church.
           
He has a keen sense of humor and a gracious manner. He learned from his mother the importance of being prayerful, but not sanctimonious. He knows how the values held by the majority of Hispanic Catholics – family stability, a sense of community, a sense of joy, respect for life, respect for the elderly – can enrich the church.
            
"(My appointment to Lubbock) was a big surprise," Bishop Rodríguez told a press conference announcing the pope's decision. "I am very happy and my heart is in the right place. I feel very happy. I come here with no reservations, ready to give myself as a missionary. I will do the best I can . . . "
           
On June 1, 1994, Most Rev. Plácido Rodríguez, CMF, was installed as the second Bishop of Lubbock during a colorful and festive liturgy in the Lubbock Memorial Coliseum. He was accompanied by his friend and colleague, the late Archbishop Joseph Cardinal Bernardin of Chicago; by Archbishop Patrick Flores of San Antonio, the principal celebrant; and by his predecessor as Bishop of Lubbock, Archbishop Michael J.  Sheehan of Santa Fe, as well as by more than one hundred concelebrating bishops and priests.
            
A holy hush came over the thousands gathered in the coliseum when, after his installation and after the Liturgy of the Eucharist, Bishop Rodríguez walked alone across the floor to place a bouquet and pray at the feet of a shrine to Our Lady of Guadalupe.
            
"He is a man of great faith, wholly committed to the church, a prayerful man of beautiful simplicity which should not be taken for naiveté," said Cardinal Bernardin. "His simplicity allows (Bishop Rodríguez) to distinguish between essentials and non-essentials."

Working in the Vineyard  

Beginning soon after his installation and working at a gentle but steady pace, the second Bishop of Lubbock has already made his mark of the character of the diocese. A brief sampling of his accomplishments over the past four years serves to show the extent of his influence as the principal pastor, administrator, and teacher for the Diocese of Lubbock.

As the pastor of his diocese, Bishop Rodríguez has shown a reverent love for the priests and people of his diocese:

He has made it possible to meet one of his earliest stated goals by dramatically increasing -- from three to 11 -- the number of seminarians in formation for pastoral ministry in the diocese.

He has visited every church, consulted with every pastor, and addressed every pastoral council in all 25 counties of the Diocese of Lubbock.

He has promulgated a comprehensive organizational plan for the revitalization of parish pastoral councils throughout the diocese.

He convened a public "town hall" meeting for extensive consultation with the Catholic faithful of southwest Lubbock before directing the creation of a new parish there to better serve the pastoral needs of the area.          

He ordained 24 new deacons for service to the people of the diocese and began the process of establishing a new deacon formation class to help our priests provide pastoral ministry in the future.           

As the administrator of his diocese, Bishop Rodríguez has articulated a clear vision and a comprehensive structure to see it through:
He appointed a pastoral team to assist him with the administration of the diocese; regularly meeting with the vicar general, the chancellor, and the moderator of the curia in order to oversee the management of diocesan ministries and resources.
He developed a new organizational structure for strategic planning and daily operations of diocesan departments and ministry programs at the Catholic Center.    
He reorganized and revitalized the deanery structure and appointed five new deans to assist him by providing many aspects of authoritative pastoral care at the deanery level of operations, closer to the homes of the Catholic faithful.
He created and re-established advisory committees, consultative bodies, and supervisory boards to help him oversee the administration of the diocese. 
Among other accomplishments, he brought about a renewed interest and participation in the Catholic Foundation, increasing the assets available for investment and enlarging the endowments designed to help support diocesan ministries; he appointed a communications board of professionals with expertise in the media and marketing to develop a comprehensive new diocesan communications pastoral plan, and he strengthened the Christian Renewal Center board, allowing its members to provide a clear vision for and maximum use of the diocesan center.
He worked with the local Methodist bishop to facilitate the merger of Saint Mary of the Plains Hospital and Methodist Hospital, guiding the negotiations between to boards of directors as they worked to create the largest health care system in West Texas and Eastern New Mexico.
As teacher of the faith for his diocese, Bishop Rodríguez has provided clear and authentic Catholic guidance on religious concerns and contemporary moral issues. A few of his accomplishments as principal teacher for the diocese are:
He expanded the Office of Christian Formation, adding the Family Life Office to help diocesan Catholic learn more about marriage and parenting skills.
He re-established and revitalized the Office of Evangelization, providing pastors with opportunities to provide training and resources for parishioners who will then be able bring people back to the church or into the church by effectively proclaiming the Good News to their communities.
He has served as a prominent advocate for social justice, making numerous public appearances during which he clearly displays and, by example, teaches the Roman Catholic "consistent ethic of life." He challenges all of the people in the diocesan locale to oppose capital punishment and abortion, to embrace cultural diversity and to exercise a "preferential option for the poor." He teaches his Catholic people to promote justice and repudiate violence at all times in all ways.
He has established a system for teaching and promoting the principles of Christian stewardship throughout the diocese, helping his parishioners learn how to grow in holiness by intentionally giving a planned and proportionate portion of their time, talent, and treasure in service to God and God's people.
He regularly publishes his "In the Vineyard of the Lord" column in the South Plains Catholic diocesan newspaper, giving all the households to which it is mailed an opportunity to learn authentic church teaching on a wide variety of matters concerning faith and morals.
A Life of Service
On May 23, 1998 – just about one week before he celebrated a Golden Jubilee with his sister, Antonia, who professed her vows as Sister Ancilla Rodríguez, MEF, in 1948; and about three weeks before the Diocese of Lubbock turned 15 years-old – Bishop Rodríguez celebrated the 30th anniversary of his ordination to the priesthood.
He has already given a long and fruitful ministry to the Church, but he is young and healthy... and all who work with him agree that the "best is yet to come" for, in the words of the late Cardinal Bernardin, this "man of great faith, wholly committed to the church, a prayerful man of beautiful simplicity..."
In addition to his work as the principal pastor, administrator, and teacher of the Diocese of Lubbock, Bishop Rodríguez has served – and continues to serve – in a number of capacities beyond the diocesan borders, as well.             
Some of his appointments have included service on the U.S. Bishops' Committee on Ecumenical and Interreligious Affairs, the U.S. Bishops' Committee on Hispanic Affairs, the U.S. Bishops' Committee on the Laity, the U.S. Bishops' Campaign for Human Development, and the U.S. Bishops' Liaison Committee with the Conference of Major Superiors.             
Bishop Rodríguez also has served as a director for the Midwest Hispanic Catholic Commission board in South Bend, Indiana; the Kenedy Foundation in Corpus Christi; the Safer Foundation in Chicago; the Saint Mary of Nazareth Hospital board in Chicago; and, the Saint Mary of the Plains Hospital board in Lubbock.             
The bishop -- who has been granted an Honorary Doctor of Law Degree from Loyola University in Chicago and the President's Award from Montay College of Chicago -- is also a member of the Lubbock Ministerial Alliance.             
When Bishop Rodríguez was just a boy, his father told him that "a priest is a servant of God and of the people.  His life at times can be hard because of the sacrifices he must make. If you really don't want to be a priest, don't go to the seminary. If you do, then go with my blessings." His father is, no doubt, very proud of his son, of the decision he made, and of the life of priestly service he has lived.