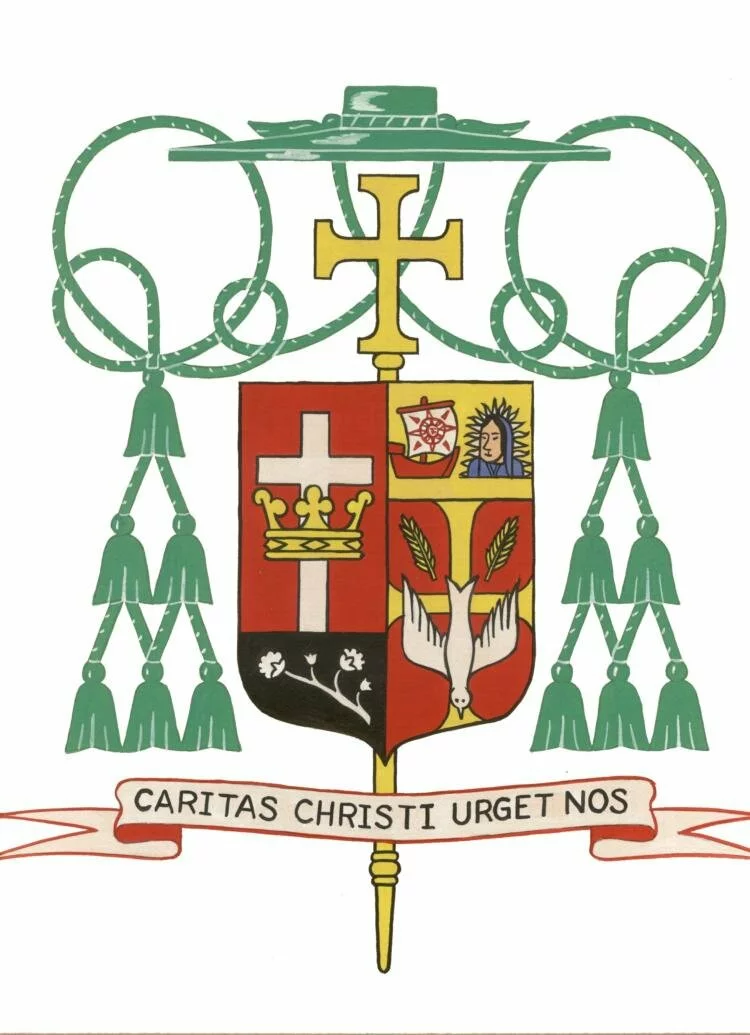 For his coat of arms. Most Rev. Placido Rodriguez, CMF, Bishop of Lubbock, selected symbols of his Indo-Hispanic heritage as well as his Catholic faith. The shield is almost completely colored in the Hispanic colors of red and gold.
The sailboat signifies the faith brought from Europe by Christopher Columbus; the bust symbolizes Our Lady of Guadalupe, under whose patronage the Rodriguez family emigrated to the United States; the palm branches signify martyrdom, representing the persecution of Catholics in Mexico endured by his family and the martyrdom of his personal patron, Saint Placido, a third century Roman who is also patron of Celaya, the bishop's birthplace. The dove signifies the guidance of the Holy Spirit, peace (the meaning of the name Placido), God's justice and holiness.
The bishop's motto, "Caritas Christi Urget Nos," is a Latin phrase from Saint Paul's Second Letter to the Corinthians (Chapter 5, verse 14) meaning "The love of Christ impels us." It is also the motto of Saint Anthony of Claret, founder of the Claretians (Congregation of Missionary Sons of the Immaculate Heart of Mary, CMF, or, the Claretian Missionaries).
Date of Birth October 11, 1940
Ordained Claretian Priest May 23, 1968
Ordained Auxiliary Bishop of Chicago December 13, 1983
Appointed Bishop of Lubbock Aprils, 1994
Installed as Bishop of Lubbock June 1,1994