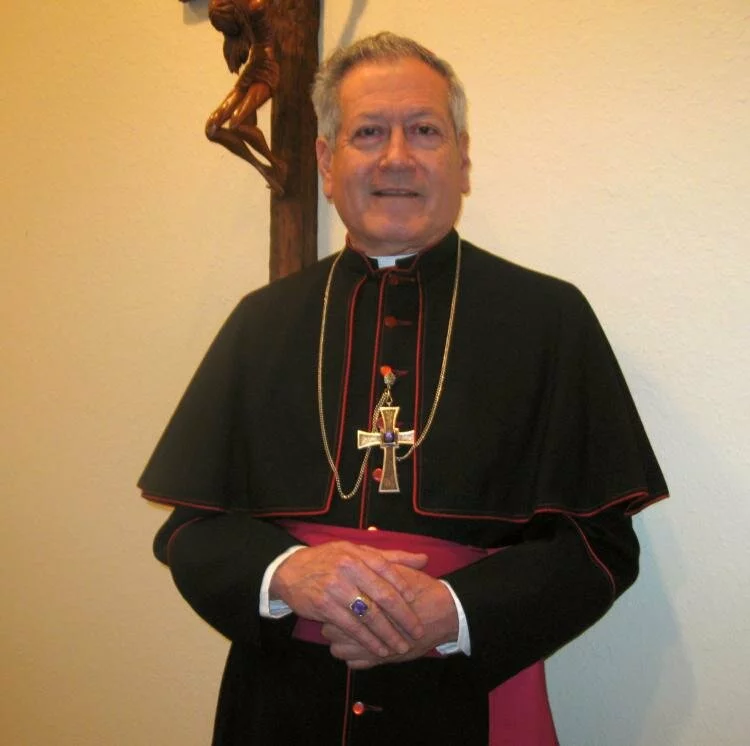 On April 5, 1994, Pope John Paul II chose Most Rev. Plácido Rodríguez, CMF, to succeed founding Bishop Michael J. Sheehan as the Bishop of Lubbock. Through his family background, religious training, and pastoral experience, Bishop Rodríguez brought a special blend of devotion, dedication, and practicality to his new assignment.             
He had worked in parishes where the unemployed and needy knock on rectory doors looking for help. He has continually served as a champion of human rights for all, regardless of race or creed. He has helped men discern whether or not they have a call to Holy Orders. He heard first-hand from his father of the cruelties imposed upon the clergy during a time of persecution; and of the need to courageously oppose and outwit those who destroy the church.
Bishop Rodríguez has a keen sense of humor and a gracious manner. He learned from his mother the importance of being prayerful, but not sanctimonious. He knows how the values held by the majority of Hispanic Catholics – family stability, a sense of community, a sense of joy, respect for life, respect for the elderly – can enrich the church.
             "
"(My appointment to Lubbock) was a big surprise," Bishop Rodríguez told a press conference announcing the pope's decision. "I am very happy and my heart is in the right place. I feel very happy. I come here with no reservations, ready to give myself as a missionary.  I will do the best I can . . . "            
On June 1, 1994, Most Rev. Plácido Rodríguez, CMF, was installed as the second Bishop of Lubbock during a colorful and festive liturgy in the Lubbock Memorial Coliseum. He was accompanied by his friend and colleague, the late Archbishop Joseph Cardinal Bernardin of Chicago; by Archbishop Patrick Flores of San Antonio, the principal celebrant; and by his predecessor as Bishop of Lubbock, Archbishop Michael J.  Sheehan of Santa Fe, as well as by more than one hundred concelebrating bishops and priests.             
A holy hush came over the thousands gathered in the coliseum when, after his installation and after the Liturgy of the Eucharist, Bishop Rodríguez walked alone across the floor to place a bouquet and pray at the feet of a shrine to Our Lady of Guadalupe             
"He is a man of great faith, wholly committed to the church, a prayerful man of beautiful simplicity which should not be taken for naiveté," said Cardinal Bernardin. "His simplicity allows (Bishop Rodríguez) to distinguish between essentials and non-essentials."